Ahhhh.... Today has been a true blessing. Deep waters have the power to calm my soul. I am finally starting to relax a little, although I admit to missing my cats and my home terribly.
I think the best part of today was the good conversation and exercise. It's nice to spend time with people who care about you, see old friends, and talk about faith, life, and looking ahead to a bright future. It was also nice sharing my art with others who hadn't seen it, and watch them connect with it.
I feel so blessed to be surrounded by such goodness in my life. Talking so openly with God again and leaning on him makes me feel as if an open vessel of healing water has been poured on my head. I remember a few years ago at New Destiny, a church I attended, I experienced that same feeling as I was praying one night. I need to investigate this feeling further, and travel down an old road that I diverged from some time ago. I am reminded of a line from an old song I used to listen to by Jars of Clay called, "Grace". It says some thing along the line of, "Break the floodgate down and carry on."
I have hope and confidence that, despite hard times, things will continue to work out for good. Like I said, I've been talking to God, and I feel better as I walk with him. I hate losing friends, and I recently lost the closest one I've ever had. Talking to God helps me persevere and hope.
Since this is an art blog, I'll post some art. This isn't new art, but it also hasn't been posted here before. This is an excerpt from a comic strip I used to do, starring a cat and dog who ride in a truck. I think it's fitting since I've been back in the South, to post this now.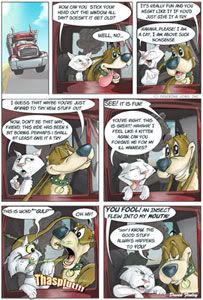 Thanks to all who read this and thank you for the support and prayer!